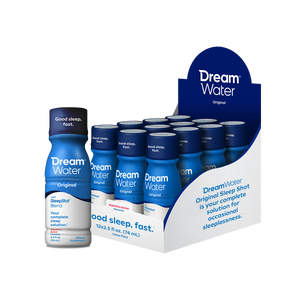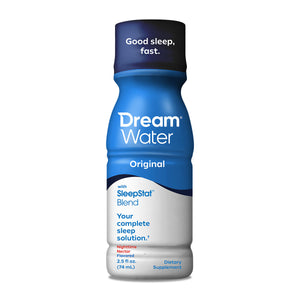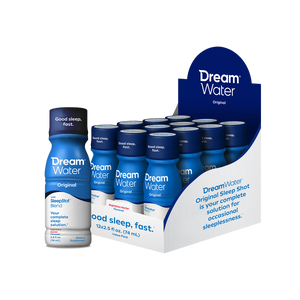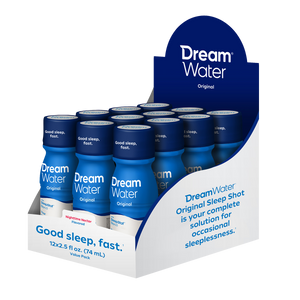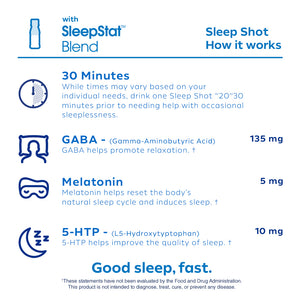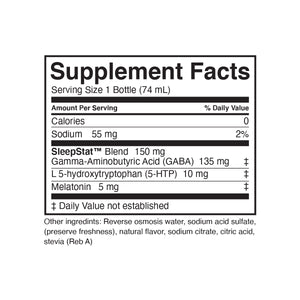 Dream Water Sleep Aid Shot - Nighttime Nectar Flavor - 12 pack
Description
Natural flavors. Gluten-free. Kosher. No added colors. Zero sugar. Sweetened with stevia.
Portable sleep supplement that you can carry with you anywhere - on the road in the air, or at home.
Drink one sleep shot approximately 30 minutes before bed for Good sleep, fast!
Shipping Information
Free shipping over $24.99 *Contiguous US only Generally 2 - 4 business days Expedited service available via Fedex and UPS International shipping available via Fedex and UPS Easy
returns
.
(Gamma-Aminobutyric Acid)
(Gamma-Aminobutyric Acid)
GABA can help promote relaxation.
Melatonin can help induce sleep.
5-HTP can help improve the quality of sleep.
What is the expiration date?
Dream Water has a 2-year shelf life.
How long does it take to feel sleepy?
We have seen it takes around 30 minutes to take effect. But everyone is different and our bodies react differently. 30 minutes is a good average.
More FAQ's
Frequently Bought Together
How to Use Our Sleep Shots

While times may vary based on your individual needs, drink one Sleep Shot approximately 30 minutes prior to needing help with occasional sleeplessness.
A full bottle of Dream Water provides a complete 150 mg serving of our fast-acting SleepStat™ Blend. A half bottle of Dream Water provides a half 75 mg serving of our fast-acting SleepStat™ Blend. Unused Dream Water should be refrigerated and will last up to 5 days.
Product reviews
Snoozberry
I use Dream Water on those nights I go to bed early so I can get up at 2:45am for work. I usually get a good nights sleep
Whole family loves it
I've been using Dream Water for several years. Now my daughter and husband use it too. It doesn't work every single time, but usually within about thirty minutes I feel sleepy enough to go on to bed and get a good night's rest. I always keep some on hand for those occasional bouts of insomnia.
EXCELLENT PRODUCT
I have used many, many sleep aids including very strong prescriptions. None of them compare to Dream Water. I get a very good sleep. Marc has always provided EXCELLENT SERVICE.
I've had trouble sleeping for
I've had trouble sleeping for years and my Naturopath hasn't been able to help. I came across Dream Water and gave it a shot and it's the best natural product I've found so far. It knocks me out but doesn't keep me asleep, which is the root of my problem, staying asleep. Most nights, however, Dream Water helps me to fall asleep after waking. On an important technical point, getting the lids off are very challenging. Most of them won't come off with even a wrench (yes, I've tried that)....I have to use a knife to slit the lid in several spots, being careful not to spill the Dream Water or cut myself, which doesn't help my process of trying to calm down in preparation for sleep.