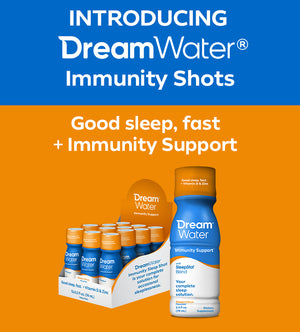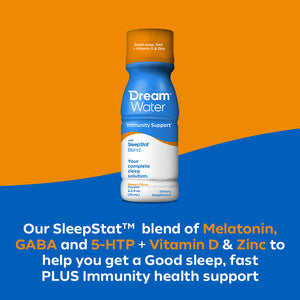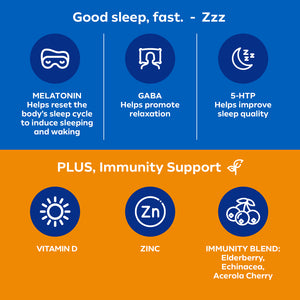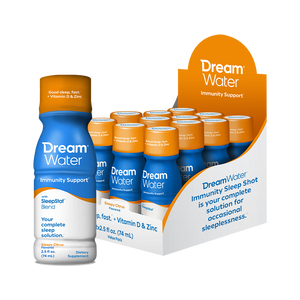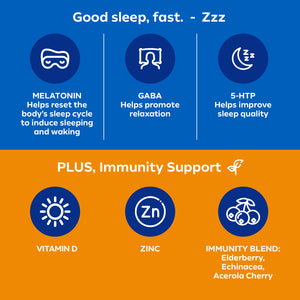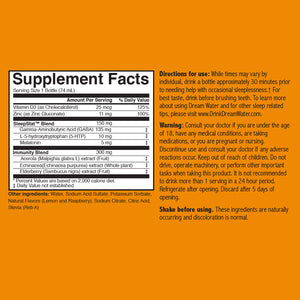 Dream Water Sleep Aid Liquid Shot - Immunity Support - 12 pack
Description
Contains Vitamin D and Zinc to help support your overall immune health.
Also contains our proprietary Immunity Blend of Elderberry, Echinacea, and Acerola Cherry.
Natural flavors. Gluten-free. No added colors. Zero sugar. Sweetened with stevia.
Drink one sleep shot approximately 30 minutes before bed for Good sleep, fast + Vitamin D & Zinc.
This package contains 12- 2.5 fl oz (74ml) shots.
Shipping Information
Free shipping over $24.99 *Contiguous US only Generally 2 - 4 business days Expedited service available via Fedex and UPS International shipping available via Fedex and UPS Easy
returns
.
(Gamma-Aminobutyric Acid)
(Gamma-Aminobutyric Acid)
GABA can help promote relaxation.
Melatonin can help induce sleep.
5-HTP can help improve the quality of sleep.
What is the expiration date?
Dream Water has a 2-year shelf life.
How long does it take to feel sleepy?
We have seen it takes around 30 minutes to take effect. But everyone is different and our bodies react differently. 30 minutes is a good average.
More FAQ's
Frequently Bought Together
How to Use Our Sleep Shots

While times may vary based on your individual needs, drink one Sleep Shot approximately 30 minutes prior to needing help with occasional sleeplessness.
A full bottle of Dream Water provides a complete 150 mg serving of our fast-acting SleepStat™ Blend. A half bottle of Dream Water provides a half 75 mg serving of our fast-acting SleepStat™ Blend. Unused Dream Water should be refrigerated and will last up to 5 days.
Product reviews
Nite Nite
Great product, helps me get relaxed and to sleep
Tastezzzzzzzz
This tasted great! I felt relaxed in no time and woke up feeling well rested.
It's okay
I received Dream Water Liquid Drink 2.5oz Sleep Aid. It wasn't horrible to drink like some others that I have tried. It helped me sleep but wore off pretty quick. I cannot say I would purchase this.
Works like magic
I get occasional insomnia and I was looking for some easy way to fix it. This works like magic, you fall asleep very smoothly and feel rested the next day