Liquid Shots
Good Sleep, fast.
Ingredients you understand
GABA(Gamma-Aminobutyric Acid)
135mg
GABA can help promote relaxation. †

Melatonin
5mg
Melatonin can help induce sleep. †
5-HTP(5-Hydroxytryptophan)
10mg
5-HTP can help improve the quality of sleep. †
SHOP ALL PRODUCTS
I can't believe it but this stuff really works. I have struggled to find any kind of natural relief for sleep but this combination worked and it keeps working. I am a skeptic so thought maybe it was just a coincidence but I have used it now on an overnight flight to Europe, after a stressful day, nights where I woke and needed to go back to sleep. It has worked every time.
I like how it taste like well... flavored water. Despite its functionality it's actually palatable. I wouldn't like it otherwise. I am a creative person and it seems to induce serious happy dreams in my brain, at least. We are all wired slightly different so I don't know how it will affect you. It makes me feel calm.
Want a good night sleep and feel refreshed in the morning? Dream water is the best! Little flavor, and no grogginess in the morning like benedryl!
How to Use OurSleep Shots
While times may vary based on your individual needs, drink one Sleep Shot approximately 30 minutes prior to needing help with occasional sleeplessness.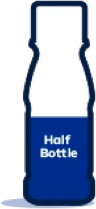 A full bottle of Dream Water provides a complete 150 mg serving of our fast-acting SleepStat™ Blend.
A half bottle of Dream Water provides a half 75 mg serving of our fast-acting SleepStat™ Blend. Unused Dream Water should be refrigerated and will last up to 5 days.
Take Dream Water when...

You need that "extra" push getting to sleep.

You can get to sleep, but can't stay there.
You travel frequently and need to get some sleep.
SHOP ALL PRODUCTS