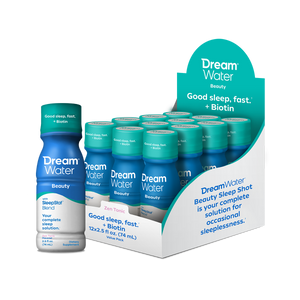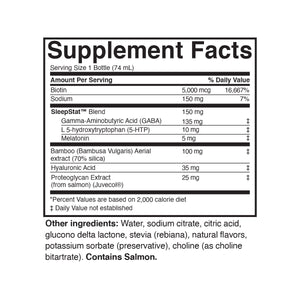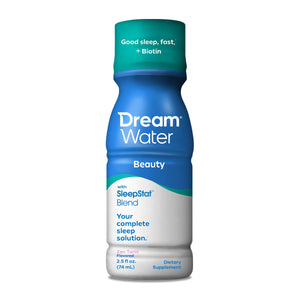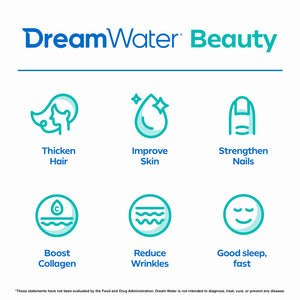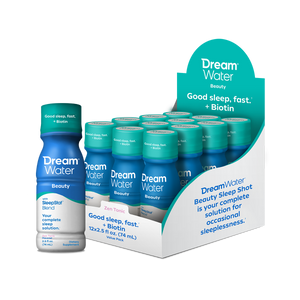 Dream Water Sleep Aid Liquid Shot - Beauty - 12 pack
Description
Contains Biotin, Hyaluronic Acid, Bamboo aerial extract, Juvecol, and Choline Bitartrate to help support healthy skin, hair and nails. 
Natural flavors. Gluten-free. No added colors. Zero sugar. Sweetened with stevia.
Portable sleep supplement that you can carry with you anywhere - on the road in the air, or at home.
Drink one sleep shot approximately 30 minutes before bed for Good sleep, fast + Biotin.
Sleep Beautifully!
This package contains: 12 -  2.5 fl oz shots (74ml).
Shipping Information
Free shipping over $24.99 *Contiguous US only Generally 2 - 4 business days Expedited service available via Fedex and UPS International shipping available via Fedex and UPS Easy
returns
.
Naturally present in the human body. Helps support healthy skin.
An essential element for maintaining the integrity and health of the skin.
A proprietary cartilage extract that is clinically documented to support joint health and skin beauty.
Is it suitable for men?
Absolutely, both men and women can benefit from a beauty sleep.
Is this a different recipe than the original dream water?
The SleepStat blend formula is the same as in original Dream Water. Dream Water Beauty contains additional ingredients to help support hair, skin, nails, and collagen production while you sleep.
More FAQ's
Frequently Bought Together
Thicken Hair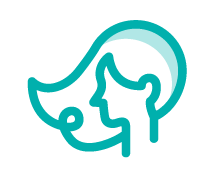 Improve Skin
Strenghten Nails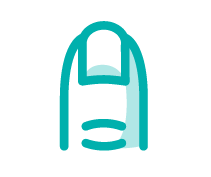 Boost Collagen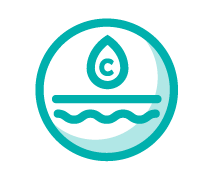 Reduce Wrinkles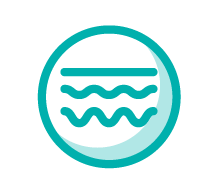 Good Sleep Fast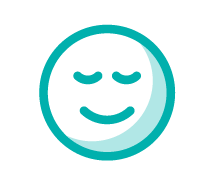 Product reviews
When will the Beauty Sleep Shots be back in stock?
Love this! Just tried to order and it's out of stock. When will it be back in stock?
Marie
I take 1 pouch an hour before I go to bed and I sleep a solid 3 - 4 hours. But I am tired enough to usually go back to sleep. I work the night shift, so I need help falling asleep during the day and this stuff helps!
Dream water
I was expecting a package of 30 not packages of 10 but I love this product it helps me sleep
Dream Water Review
I love Dream Water. However, I have a problem with FedEx. Dream Water has chosen to use FedEx, and for the life of me, I can't understand why. I get a notice when FedEx says my Dream Water is out for delivery. However, it is never delivered when they say it will be. They tell me they attempted to deliver but no one was at home to accept it. That is a crock of BS. It then takes another 3-5 days to actually deliverd. If I have that problem one more time with FedEx I will stop ordering Dream Water. I may like your product but it is not worth the trouble, stress & hassle of dealing with FedEx.