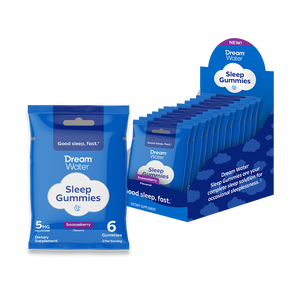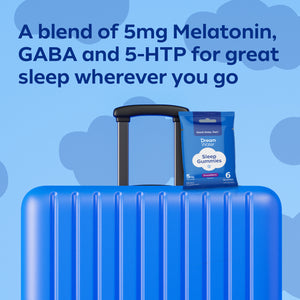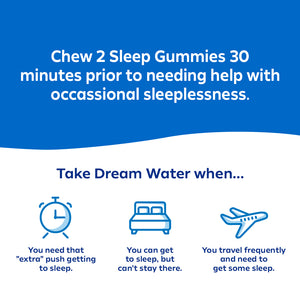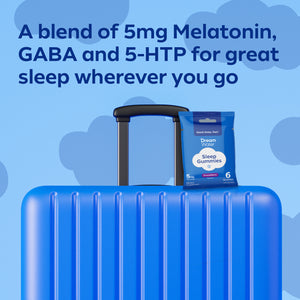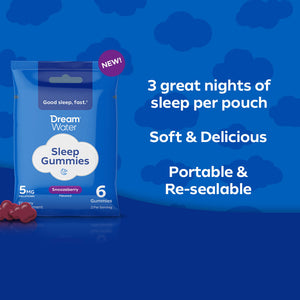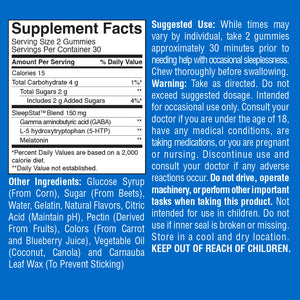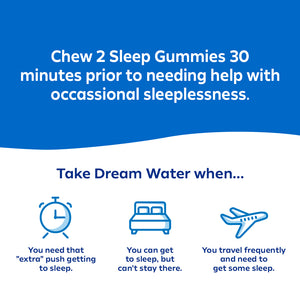 Dream Water Sleep Aid Gummies, Travel & Trial 6-count pouches - 12 pack
Description
Natural flavors. Natural colors.
Perfect travel companion for a great sleep on the go.
Chew 2 sleep gummies approximately 30 minutes before bed for great sleep.
This package contains 12 pouches of our delicious snoozeberry gummies - 6 gummies per pouch.
Shipping Information
Free shipping over $24.99 *Contiguous US only Generally 2 - 4 business days Expedited service available via Fedex and UPS International shipping available via Fedex and UPS Easy
returns
.
(Gamma-Aminobutyric Acid)
(Gamma-Aminobutyric Acid)
GABA can help promote relaxation.
Melatonin can help induce sleep.
5-HTP can help improve the quality of sleep.
What is the expiration date?
Dream Water Sleep Gummies have an expiration life of 18 months.
How long does it take to feel sleepy?
We have seen it takes around 30 minutes to take effect. But everyone is different and our bodies react differently. 30 minutes is a good average.
More FAQ's
Frequently Bought Together
Product reviews
Wonderful product
We absolutely love gummies when we are in bed but cannot sleep and nobody wants to get up to get other supplements. They stay in the drawer of our end table and it's very convenient to get them when we need it.
Definite Zzzs!!
I have a pretty high tolerance for melatonin, so I need a lot of mgs before it actually knocks me out. However, the 5mgs in this SleepStat blend really puts me to sleep. When I do use the full dosage, which is 2 gummies, I do tend to want to keep sleeping and it's hard for me to wake up in the morning. When I only take 1 gummy, it gives me the perfect amount of sleep and I wake up pretty well rested in the mornings. It tastes like any other vitamin gummy; it doesn't taste like a candy gummy with all that sugar.
Be prepared to sleep!
Wow, do these things work! I've tried a number of various melatonin pills and gummies, each with varying results. I tried the Dream Water Sleep Gummies 60 Count for the first time last month, and I was out! I actually took half the recommended dose, just to put it to the test. I slept through the night! We're talking deep sleep, the kind where you actually remember every strange dream you had! I would definitely recommend this product to anyone suffering from sleep issues, or even just someone who wants a solid night of restful sleep.
Works great!
Went through a rough time recently that affected my sleep. With the help of these gummies I got more restful sleep than I would have without them. Thank you!!!