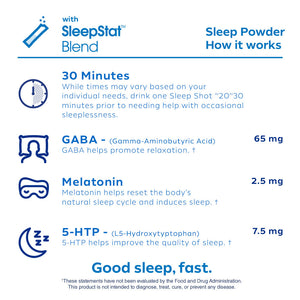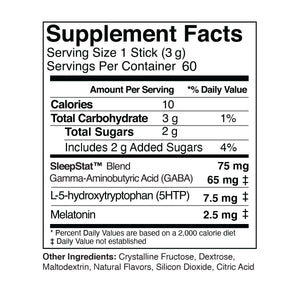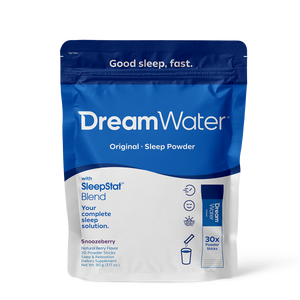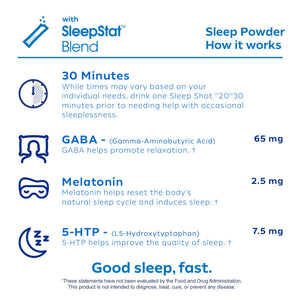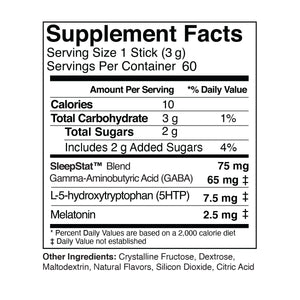 Dream Water Sleep Aid Powder - Snoozeberry Flavor - 30 pack
Description
Contains natural flavors.
Convenient sleep supplement that you can carry with you anywhere - on the road, when you travel or at home.
Take 1-2 sleep powder sticks approximately 30 minutes before bed for great sleep; Mix with hot or cold water, or take straight with no water.
This package contains 30 powder sticks.
Shipping Information
Free shipping over $24.99 *Contiguous US only Generally 2 - 4 business days Expedited service available via Fedex and UPS International shipping available via Fedex and UPS Easy
returns
.
(Gamma-Aminobutyric Acid)
(Gamma-Aminobutyric Acid)
GABA can help promote relaxation.
Melatonin can help induce sleep.
5-HTP can help improve the quality of sleep.
There are many Dream Waters. Which is best for plane travel?
All of our products are designed to conveniently carry-on. Depending on the length of your flight, I would recommend our powder sticks or a partial-dosage of the 2.5 oz. bottle.
Does it have a taste?
Dream Water Sleep Powder does have a sweeter taste in our Snoozeberry Flavor. If it is to sweet for your liking, you can dilute it in water.
More FAQ's
Frequently Bought Together
Product reviews
Excellent product
Really helps me go to sleep. I take one almost nightly. Love it! My favorite is Nighttime Nectar.
Best Sleep Ever!
I used to use regular melatonin in dissolvable, gummy, and pill forms and it always caused me to have nightmares and I always woke up tired. Then, i switched to dream water and I can't go back! The flavor is amazing and my sleep has never been better! I just ordered my second 24 pack and it shipped within an hour! You will not regret this purchase!!
Love it!
I'm a psychotherapist who uses Dream Water AND I recommend it for my clients as well
Love love
I love your Dream water, I can't sleep without it.
awesome products!
fast great delivery and products